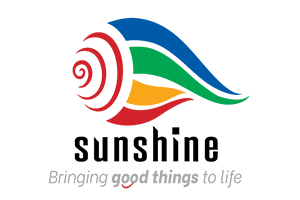 Sunshine Holdings Great Place to Work® Certified TM for 2023 by Great Place to Work® in Sri Lanka
September 21, 2023
Colombo, Sri Lanka – September 21, 2023 – Diversified Sri Lankan conglomerate Sunshine Holdings was certified for 2023 as a great workplace today by the independent analysts at Great Place to Work® in Sri Lanka. Sunshine Holdings earned this credential based on extensive ratings (>70% positive sentiment) provided by its employees in anonymous globally recognized survey conducted by Great Place to Work® in Sri Lanka. The certification recognizes Sunshine Holdings PLC, Healthguard Pharmacy Ltd., Sunshine Consumer Lanka Ltd., Sunshine Healthcare Lanka Ltd., and Sunshine Tea (Pvt) Ltd.
Commenting on this achievement, Vish Govindasamy, Group Managing Director of Sunshine Holdings, expressed his gratitude, saying, "It is a great honor to be recognized by the Great Place to Work Institute. This reaffirms Sunshine's unwavering commitment to cultivating an open, secure, and diverse work environment that empowers employees to excel in their careers and exceed stakeholder expectations. In an era marked by global disruptions, our focus on providing job security, recognizing performance and fostering exceptional teamwork remains steadfast. We view our employees as part of the Sunshine family and are committed to their well-being in every aspect of their lives."
"We applaud Sunshine Holdings for seeking employees' feedback and the opportunity to certify itself," said Kshanika Ratnayake, CEO of Great Place to Work® in Sri Lanka. "These ratings measure its capacity to earn its own employees' trust and create a great workplace - critical metrics that anyone considering working for or doing business with Sunshine Holdings should take into account as an indicator of high performance."
"According to the Great Place to Work® study, 82% percent of Sunshine Group employees say it is a great workplace," says Michelle Senanayake, Group Head of HR at Sunshine Group of Companies."
1430 employees completed the survey, resulting in a <95 percent confidence level and a margin of error of ± 5.>. The employee survey was conducted in accordance with Great Place to Work administration guidelines and anonymous and confidential employee responses were obtained to determine the perception around workplace culture in the organization.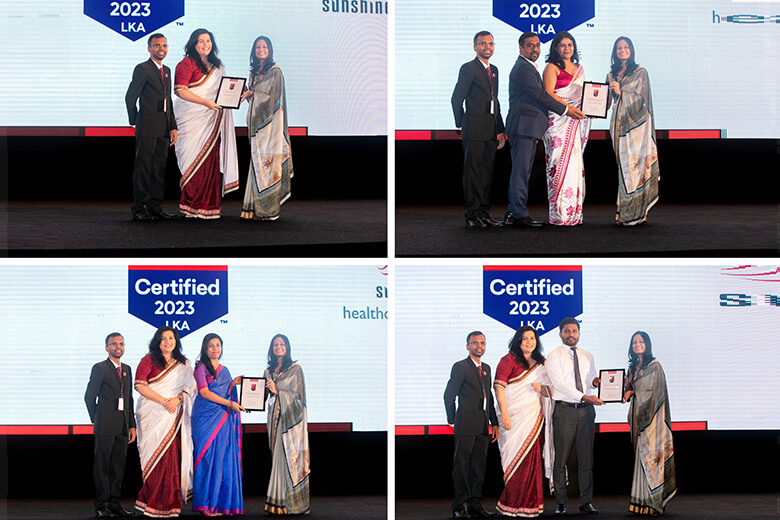 Representatives from Sunshine Healthcare Lanka, Sunshine Consumer Lanka, Sunshine Tea and Sunshine Holdings PLC receiving their GPTW certificates
Sunshine Holdings PLC is a diversified conglomerate contributing to 'nation-building' by creating value in vital sectors of the Sri Lankan economy – healthcare, consumer goods and agribusiness. Established in 1967, the group is now home to leading Sri Lankan brands such as Zesta Tea, Watawala Tea, Ran Kahata, Daintee Confectionary and Healthguard Pharmacy, with over 2,300 employees and revenue of Rs. 52 billion in FY23. The business units comprise Sunshine Healthcare Lanka, Sunshine Consumer Lanka and Watawala Plantations PLC, which are leaders in their respective sectors and many of them certified as a "Great Place to Work" in 2022.
About Great Place to Work®
Great Place to Work® is the global authority on high-trust, high-performance workplace cultures. Through proprietary assessment tools, advisory services, and certification programs, including Best Workplaces lists and workplace reviews, Great Place to Work® provides the benchmarks, framework, and expertise needed to create, sustain, and recognize outstanding workplace cultures. Follow Great Place to Work online at www.greatplacetowork.lk
About the Great Place to Work® Certified TM' programme
The 'Great Place to Work® Certified TM' programme recognizes organizations that have submitted a Culture Brief© and undertaken Great Place to Work® rigorous Trust Index© employee perception survey and passed the global qualification criteria of 70% positive sentiment from employees required to be a recognized as Great Workplace. The Certification period is valid for 1 year.