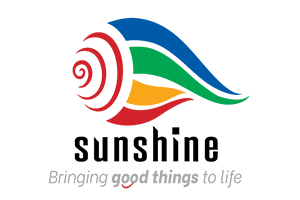 Terms & Conditions
We welcome you to the website of our Company (hereinafter referred to as the "Website") - Sunshine Holdings PLC (company registration no. PQ 13) (hereinafter referred to as the "Company" or "we/us/our"). 
While we hope you find this Website and its contents useful and informative, by clicking "I Agree" below, and proceeding to use and/or browse the Website, you agree to have read the terms and conditions mentioned below, the Privacy Policy and Cookie Policy pertaining to this Website, and to be bound by them.   
Use
You acknowledge and agree that you are only permitted to use the Website and any features (such as chat and e-mail) thereof as expressly set out in these terms and conditions.
These terms and conditions apply to all pages of this Website and any subsites or any other websites of the Sunshine Group of Companies (including subsidiaries, affiliates or member companies of the Company), subject to any additional or specific terms and conditions mentioned in the websites/subsites or webpages of such companies of the said Sunshine Group of Companies.
You agree that the use of the Website is for your own personal use only.
Your use of this Website shall be subject to the Privacy Policy and Cookie Policy of the Website and any updated versions thereof.
Your Obligations
You warrant that you will only use the Website and features in accordance with these terms and conditions and in an appropriate and lawful manner.
You agree that blogs or any other facility enabling posting of comments in the Website publicly are available to others and you shall be cautious when disclosing personal or sensitive information or any information which may identify you. We shall not be responsible for, and do not control or endorse any content of any post or communication placed on any such blog or other facility.
You shall not:

receive or transmit any content which is obscene, pornographic, threatening, racist, menacing, offensive, defamatory, in breach of confidence, in breach of any intellectual property right (including copyright) or otherwise objectionable or unacceptable or unlawful;
circumvent user authentication nor interfere with any other user's use of the Website;
copy any pages or register identical keywords with search engines which may is or likely to mislead others into thinking that they are browsing the Company's legitimate Website or webpages or use the Website or its content or features for any other unlawful or objectionable or unacceptable conduct.  You agree that users who violate the foregoing may incur criminal or civil liability and we at our absolute discretion fully co-operate with investigations of such violations conducted by law enforcement authorities;
use the Website and/or its features to advertise or offer to sell any goods or services for any commercial purpose;
knowingly or recklessly transmit or upload any virus, trojan, worm, malware, logic bombs, time bombs, spyware or computer code or ransomware or other material which is malicious or technologically harmful or is intended to or may damage, disrupt, interfere with or hijack the operation of, or monitor the use of, any hardware, software or equipment, or of the Website itself or the servers or networks used to make the Website available, through the Website which may cause or is likely to cause detriment or harm, in any degree, to computer systems of the Company or other users of the Website or internet users or lead to security issues or otherwise jeopardize the integrity of the Website;
use any robot, spider, site search/retrieval application or other manual or automatic device to retrieve, index, "scrape," "data mine" or in any way gather the Website's content or reproduce or circumvent the navigational structure or presentation of the Website or security scanning or running utilities that reveal or exploit weaknesses in the security of the website
hack into, or otherwise engage in any other behaviour intended to, or which may, or which is otherwise likely to damage or destroy the Company's reputation or that of any third party;
remove, change or obscure anything in any way on the Website or attempt to do so, or otherwise use any material obtained while using the Website except as allowed by these terms and conditions;
reverse engineer or decompile (whether in whole or in part) disassemble, split, adapt, implant, or implement other derivative works on any software used in the Website and/or the Services (except to the extent expressly permitted by applicable law); 
copy or use any material from the Sites and/or the Services for any commercial purpose;
remove, obscure or change any copyright, trade mark or other intellectual property right notices contained in the Website;
set a hyperlink to any part of the Website in any form from your or any other website without the Company's written consent;
submit information that you do not have the right or authority to submit or disclose to anyone under any law or any contractual or fiduciary relationship (like trade secrets or confidential information);
committing any act that would constitute a breach of either the privacy (including uploading or transmitting private information without the concerned individual's consent) or any other legal rights of any third party;
post anything impersonating others, or otherwise misrepresenting your identity;
do any act that may restrict or inhibit any other user from using or enjoying this Website or its contents;
gain unauthorized access to any part of this Website, or to any of the services offered on or through the Website, or to any other systems or networks connected to any Company server or infrastructure;
not do anything that may place an excessive load on this Website, including but not limited to its infrastructure, systems, and networks;
subject to the terms and conditions herein obtain, attempt to obtain, any Website content through any means not specifically available through this Website or use any manual or automatic process, device, program, algorithm, or methods to access, obtain, copy, or monitor any portion or content of this Website;
test by scanning or other means the vulnerability of this Website or any networks connected to this Website, nor breach the security or authentication measures of this Website and the services offered on or through this Website.  You shall not reverse lookup, trace, or attempt to trace any information of any other users or visitors of Company or this Website, or exploit or reveal any information or services not specifically mentioned or offered on or through this Website;
interfere with or attempt to interfere with the proper operation of this Website and any other person's use of this Website by any means, including but not limited to using any device, software, or programme;
make public or convey to or disclose to any third party any information you receive from the Company via the Website that is not displayed on the Website itself.  You agree that such information sent specifically to you may be confidential or proprietary to the Company. 

Any cost/expense relating to the use of data or otherwise to the use of this Website shall be borne by you.
You shall ensure that all material you send or upload to this Website where and if allowed (including, but not limited to, e-mails, text, graphic files, still or moving images, or responses to any questionnaire available through this Website) is legally valid, truthful, socially acceptable, complies with all laws and regulations, does not infringe the intellectual property rights or other rights of the Company or any third party.
If you require third party software to use this Website or for any purposes ancillary thereto, any licence you require to such software shall be procured at your own expense.
In the event you may be required to create an account on this Website, set up a user profile, or download information, the information you provide shall be truthful and accurate, and shall not be misleading.
You shall not allow anyone else to have or use your password and/or login credentials and shall exercise due diligence and care regarding account access and security.  In the event you share your password details, the Company shall not be liable for any loss or damage that may accrue, and you shall be responsible and indemnify the Company for any loss, damage or loss of reputation occurring to the Company by any third party use of or access to your account.
If you suspect that your password or other confidential login details are known to any other party, you agree to immediately change them.
You shall keep your personal details provided to us up to date at all times.
You shall take all reasonable steps to protect the security of the personal electronic device through which you access the Website or any account created therein.
The Company reserves the right to request additional information to verify your identity or authenticity in order to otherwise determine whether to allow you to use the Website/account.
You shall obey social ethics and etiquette when using this Website.
You expressly agree that your sole and exclusive remedy for dissatisfaction relating to the Website or shall be to discontinue the use of the Website.  You shall not discredit or criticize the Website or the Company via any means, publicly or otherwise.
Limitation/Exclusion of Liability
While we make all reasonable endeavours to ensure the maintenance and availability of the Website, such availability may be affected by your equipment or connectivity, or other reasons beyond our control.  We may disable or shut down the Website, or otherwise cause the Website to be unavailable for public access due to planned maintenance or otherwise, with or without prior notice.  We shall not be liable for such unavailability of or interruption to access of the Website.
Neither the Company nor any employee of the Company shall be liable for any direct or indirect damages or any consequential loss of any nature whatsoever (whether the possibility of same has been informed to the Company or not), whether in an action of contract, negligence or other tortuous action, arising out of or in connection with the use of the Website or contents (including but not limited to data, information, material - including but not limited to text, pictures, photographs, software, video, music, sound and graphics) available on same or for unavailability of the Website.
All conditions or warranties which may be implied or incorporated into these terms and conditions by law or otherwise are hereby expressly excluded to the extent permitted by law.
We make every effort to ensure the security of your communications with us.  You agree that for reasons beyond our control, there is a risk that your communications may be unlawfully intercepted or accessed or hacked by those other than the intended recipient.  
We shall not be liable for any communication originating from any third party received by us via the Website using a device owned by you or is in your custody or is otherwise used by you, to access the Website or to transmit such communication – whether such third party's use of such device for accessing the Website or generating communication was authorized by you or not.  
We shall not be liable for your inability to access this Website or parts thereof due to any incompatibility of your browser.
Ensuring that the Website is suitable for your purposes shall be your sole responsibility prior to using the Website.  The Website may be periodically updated and it shall be your responsibility to regularly ensure that you have the latest information.  
The Website and its content are made available on an "as is" basis.  While every effort has been made to provide accurate information on the Website, neither the Company nor any of its employees makes any warranty, expressed or implied, or assume any legal liability (to the extent permitted by law) or responsibility for the suitability, reliability, timeliness, accuracy or completeness of the Website or any part or content thereof.
The information on this Website has been included in good faith, and it is for general informational purposes only.  Such information shall not be relied on for any specific purpose and no representation or warranty is given by the Company.  
We make no representations or warranties, either express, implied, statutory or otherwise of merchantability, fitness for a particular purpose, with respect to the Website, the information or any products or services to which the information pertains.
Neither the Company nor its directors, officers, employees or agents shall be liable for any loss, damages or expenses of any kind, including but not limited to, direct, indirect, incidental, consequential or punitive damages, loss of data, arising out of your access to, use, inability to use, change in content of this Website even if the Company has previously been advised of the possibility of such damages.
Neither the Company nor its officers, employees nor agents shall have liability or any responsibility whatsoever for any loss suffered caused by bug, worms, viruses or other technologically harmful material whatsoever that may infect your computer equipment or other property by reason of your use of, access to or downloading of any contents from this Website. In the event you download any contents from this website you shall do so at your own risk. 
The Company shall not be liable whatsoever for any posting made on the Website or sent to us via the Website by any third party purporting to be posted by you or otherwise impersonating you.
No information on this Website shall constitute an invitation to invest in the Company.  Past performance is not necessarily a guide to future performance.  You shall not rely on any information on this Website as guidance for, or in making a decision in, purchasing or trading in securities of the Company on any stock exchange or otherwise.
Listing or display of any product or service of the Company in the Website shall not be any assurance of such product or service being available for purchase by you at any time, either from the Company or any distributor or retailer of the Company.
Displaying on the Website any vacancy for employment at the Company or enabling you to apply for such employment via the Website or to submit your details via the Website shall not create any obligation of the Company to consider you for such employment nor future employment.  Further, enabling such application for employment shall not be construed as renouncing of the Company's right to solicit job applications via any other means (whether for the same vacancy displayed on the Website or otherwise) nor the Company's right to consider job applications via other means.  The Company has no obligation to formally respond to any job application received via the Website.      
Indemnity
You agree to indemnify, defend and hold the Company and all its directors, employees, advisors, suppliers, advertisers, agents, licensors and licensees harmless from and against any and all claims, damages, losses, costs (including without limitation reasonable attorneys' fees) or other expenses that arise directly or indirectly out of or from your breach of these terms and conditions, your violation of the undertakings, representations and covenants mentioned herein, and/or your activities in connection with this Website.
You agree to fully indemnify and to hold the Company harmless from and against any claim brought by any third party resulting from your use of the Website and features and in respect of all losses, costs, actions, proceedings, claims, damages, expenses (including reasonable legal costs and expenses), or liabilities, whatsoever suffered or incurred directly or indirectly by the Company in consequence of such use of the Website and features by you, or your breach of or non-compliance to any of these terms and conditions.
You shall defend and pay all costs, damages, awards, fees (including any reasonable legal fees) and judgments awarded against the Company arising from the abovementioned claims and shall provide the Company with notice of such claim, full authority to defend, compromise or settle such claim, and reasonable assistance necessary to defend such claims, at your sole expense.
Intellectual Property/Proprietary Rights
The Company or their licensors exclusively retains all rights including intellectual property rights to the contents that are displayed on the Website, including but not limited to the any text, software, database, format, words, images, information, phrases, texts, photographs, graphics, maps, designs, logos and trademarks that are displayed on the Website.  "Intellectual property rights" means (i) copyright, patents, database rights and rights in trademarks, trade names, designs, know-how and confidential information (whether registered or not); (ii) applications for registration and the right to apply for registration for any of these rights; and (iii) all other intellectual property rights and equivalent or similar forms of protection existing anywhere globally.
All trademarks used on the Website and/or pertaining to products and services of the Company are trademarks of the Company or of the Sunshine Group of companies.  You shall not use such trademarks, whether design or word marks, as or as part of your own trademarks, or in a manner which is likely to cause confusion, or to identify products to which the trademarks do not relate, or to imply endorsement or otherwise of products or services to which they do not relate, or in any manner which does or may cause damage to the reputation of the Company or relevant Sunshine Group company or the said trademarks.
You acknowledge and agree that the Website or any part thereof, whether presented to you by us, advertisers or any third party, are protected by copyrights, trademarks, service marks, patents, or other proprietary rights and laws.  All rights are expressly reserved.
You are only allowed to use the Website and the its content subject to these terms and conditions and nothing on the Website or its content shall be construed as conferring any licence or other right to you of any intellectual property or other proprietary rights of the Company, Sunshine Group of companies or any third party, whether by estoppel, implication or otherwise.
You hereby grant to the Company a perpetual, irrevocable, royalty-free, worldwide licence to reproduce, transfer, modify, adapt and/or publish any content provided by you to us by email, post or otherwise on the Website as the Company deems fit without notice to you, unless you have indicated otherwise in such communication.
Rights of the Company
In the event accessing any part of this Website or content thereof has to be paid for, the Company shall be entitled to disallow access to you to such part of the Website or content unless appropriate payment is done via any payment method enabled by the Website.
The Company reserves the right to revise these terms and conditions by updating the then current version thereof posted on this Website.  By using this Website, you agree to be bound by any such revisions and should therefore periodically visit the Website to determine the most current version of the terms and conditions to which you are bound.  You shall be bound by such updated terms and conditions regardless of whether you so visit the Website or otherwise.
The Company reserves the right to make any changes and corrections to this site and its content as and when we consider it appropriate and without notice.  We may suspend the operation of this Website for support or maintenance work, or in order to update the content or for any other reason.
Personal information provided to us through this Website shall be used only in accordance with the latest version of our Privacy Policy (also found on the Website) which forms part of these terms and conditions. You shall read same carefully before proceeding to use the Website.  By providing your personal details to us you hereby consent to its use in accordance with our Privacy Policy.
The Company shall at any time be fully entitled to amend the criteria sought in job applicants to the Company despite specifying such criteria on this Website relating to Company job vacancies, or to vary application deadlines, and shall not be committed to announcing such amendments on the Website or communicate same to any such applicants who apply via the Website.
Third Party Websites
This Website may contain links to third-party websites or services that are not owned or controlled by us.
You agreed that we have no control over, and assume no responsibility for, the content, their accuracy, functionality, privacy policies, cookie policies or practices of any third party website or services.
You further acknowledge and agree that we shall not be responsible or liable, directly or indirectly, for any damage or loss caused or alleged to be caused by or in connection with use of or reliance on any such content, goods or services available on or through any such website or service.
Relationship
Nothing in the Website shall be construed to constitute a partnership between you and us, or constitute either you or us as agent of the other for any purpose whatsoever, or constitute the creation of a legally enforceable obligation or relationship between you and us.
Nothing in the Website shall create any obligation on the part of the Company to provide you with any product, service or further information.
Nothing which you submit via the Website or using any feature therein shall obligate us to respond to within any particular period of time or respond to you at all.
Termination
We may suspend, vary or terminate the Website at any time without prior notice for repair or maintenance work or in order to upgrade or update the Website or for any other reason whatsoever.
We may at our sole discretion restrict or terminate your access to the Website forthwith on breach of any of these terms and conditions by you, without any liability.  Further, we shall be under no obligation to revoke such restriction or termination.
We may at our sole discretion restrict or terminate your access to the Website forthwith in the event your personal details change without notice to us.
We shall be entitled to terminate these terms and conditions and your access to the Website at any time without giving reasons.
All provisions of the terms and conditions herein which by their nature should survive termination shall survive termination, including but not limited to ownership provisions, warranty disclaimers, indemnity and limitations of liability.
Termination shall not in any event affect any of your liabilities or our rights accrued to you and us, respectively, as at the time of termination.
Exercise of any right by us hereunder shall not prejudice our right to exercise any other right, or to terminate these terms and conditions or your access to the Website.
Contact
Miscellaneous
The Company shall be deemed to be in default of any provisions hereof for any delay, failure in performance or interruption of services resulting directly or indirectly from an act of God or military authority, acts of public enemy, civil disturbance, acts of war - whether declared or not, accident, fire, explosion, earthquake, flood or any other natural disaster or epidemic or pandemic or any other event beyond the reasonable control of the Company.
You shall not transfer or assign terms and conditions to any other party.  The Company shall be entitled to transfer or assign all or any part of these terms and conditions to any other entity within the Sunshine Group of companies.
The failure by the Company to exercise or enforce any right conferred by these terms and conditions shall not be deemed to be a waiver of any such right nor operate so as to bar the exercise or enforcement hereof at any time.  Further, no waiver of any such term or condition by the Company shall be deemed a subsequent waiver of that term or waiver of any other term or condition.
In the event any provision of these terms and conditions including those relating to any limitations of liability or limitation on warranties is held to be invalid or unenforceable, the remaining provisions shall remain in full force and effect.
These terms and conditions shall be governed by the laws of Sri Lanka, and shall be subject to the exclusive jurisdiction of the Sri Lankan Courts.
Any notice or communication sent you to via any e-mail address provided by you to us via the Website shall be deemed as validly sent to you, regardless of receipt of same by you.
You hereby warrant that you have full capacity in law and otherwise to be bound by these terms and conditions and that there is nothing legally or otherwise prohibiting you from being so bound.  You represent and warrant that you are fully legally and otherwise authorized to upload any content you upload to the Website or post any post you place on the Website, and that no such content violates the intellectual property or other rights whatsoever of the Company or any third party.  You shall fully indemnify the Company or any other relevant third party against any damage, loss of reputation or other claim arising directly or indirectly due to violation of this provision by you.