Financial Reports
At Sunshine, integrity and compliance is given prominence with a "Code of Conduct and Ethics" followed across the group. Each of our subsidiaries manages a separate risk management mechanism through an effective governance framework that ensures regulatory compliance, transparency, and accountability, avoiding conflict of interest and safeguarding the integrity of our financial reporting and disclosures.
Interim Quarterly Reports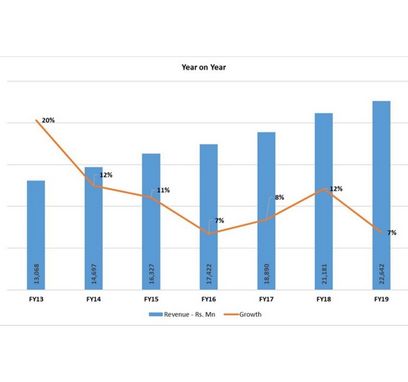 Performance at a Glance
We bolstered our position as a marketer with several leading brands in Sri Lanka. One of the Tea brands - Watawala Tea was the largest brand in volume, whilst Zesta became the exclusive brand of choice for the international hotel chain Shangri-La.
Forms and Documents Pertaining to the 49th Annual General Meeting
Analysts Coverage
Religare Securities
Nikita Tissera
T: 0115 220 200
First Capital Equities
Atchuthan Srirangan
T: 011 2 145017
JB Securities
Asela Gunathilake
T: 011 2 490900
John Keells Stockbrokers
Krishan Rajanathan
T: 011 234 2066/7
Softlogic Stockbrokers
Suhendrini Yatawara
T: 011 7 277000
 
Financial Calendar
|   | Q1 | Q2 | Q3 | Q4 |
| --- | --- | --- | --- | --- |
| FY16 | 14-Aug-15 | 9-Aug-16 | 4-Aug-17 | 9-Aug-18 |
| FY17 | 2-Nov-15 | 8-Nov-16 | 7-Nov-17 | 8-Nov-18 |
| FY18 | 11-Feb-16 | 14-Feb-17 | 8-Feb-18 | 8-Feb-19 |
| FY19 | 30-May-16 | 1-Jun-17 | 28-May-18 |  28-May-19 |
| FY20 | 05-Aug-19 | 15-Nov-19 | TBD |  TBD |
AGM Calender
| | |
| --- | --- |
| FY16 | 11-Jul-16 |
| FY17 | 29-Jun-17 |
| FY18 | 28-Jun-18 |
| FY19 | 27-Jun-19 |
| FY20 | TBD |
Dividend Historical Trend
|  Dividend Rs | DIV - CASH | DIV - SCRIP |
| --- | --- | --- |
| FY13 | 0.5 |   |
| FY14 | 0.95 |   |
| FY15 | 0.95 |   |
| FY16 | 1.05 |   |
| FY17 | 1.25 | 0.5  |
| FY18 | 1 | 0.5  |
| FY19 | 1.25 |   |