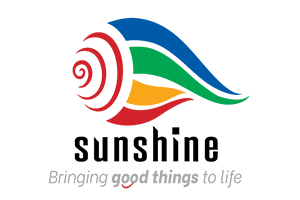 Sunshine Holdings ups 9-month revenue by 60% despite challenges
February 15, 2023
Consolidated revenue of Rs. 38.6 billion
PAT increased by 6.2% YoY to Rs. 3.8 billion
Healthcare revenue up 36.3% YoY to Rs. 17.6 billion
Consumer revenue up 133.8% to Rs. 14.1 billion
Agri revenue up 32.1% YoY to Rs. 6.6 billion
February 15, 2023: Diversified conglomerate Sunshine Holdings (CSE: SUN) reported a consolidated revenue of Rs. 38.6 billion for the nine months ending 31 December 2022 (9MFY23), an increase of 60% YoY compared to the corresponding period of last year.
Profit after tax (PAT) for the period in review rose to Rs. 3.8 billion, an increase of 6.2% YoY, despite contraction in volumes and higher interest cost. The gross profit amounted to Rs. 10.2 billion, up 25.3% YoY compared to the previous year, in line with the Group's revenue growth. Gross profit margin for the period in review stood at 26.4%, which is a contraction of 730 basis points against the same period last year. Profit attributable to equity shareholders (PATMI) was Rs. 2.2 billion for 9MFY23, an increase of 21.2% YoY.
The Group's Healthcare business emerged as the largest contributor to Sunshine's top-line performance, accounting for 45.7% of total revenue. Consumer and Agribusiness sectors of the Group contributed 36.5% and 17.2% respectively of the total revenue. In April 2022, Sunshine Tea (Pvt) Ltd, which is a tea export business, was acquired by the Group and its performance is consolidated under Consumer Goods sector w.e.f. 1st April 2022.
Commenting on the performance, Sunshine Holdings Chairman Amal Cabraal said, "Amidst tough market conditions, the notable growth in revenue is attributed to strong contributions from all our business sectors on the back of well executed strategies. In the short to medium term, we expect the operating environment to remain challenging. Unprecedentedly high finance costs, soaring inflation along with significantly increased tax rates impacting disposable income and dampening consumption and key export markets experiencing recessionary conditions are some of the key challenges that need to be overcome. The effects of the economic crisis and consequent corrective measures are leading to talent migration and talent retention has become increasingly challenging. With sharper and more agile planning and operational excellence across all sectors, the Group will remain focused on adding value to its local customers and consumers and leverage its recently acquired export business to deliver growth outside Sri Lanka."
Healthcare
Group's Healthcare segment generated Rs. 17.6 billion in turnover during 9MFY23, representing a significant growth of 36.3% YoY on the back of improved performance in Pharmaceutical and Medical Devices segments. Lina, the Pharma manufacturing business of the Group, experienced revenue growth mainly due to price revisions together with the revenue earned from Metered Dose Inhaler (MDI) sales to the government. The first MDI sale was made in the month of July 2022 marking the commencement of commercial operations in Lina Spiro. The Healthcare sector PAT decreased by 2.5% YoY.
Consumer Goods
Recording a 133.8% increase in revenue compared to the corresponding period of last year, the Consumer Goods Sector recorded a revenue close to Rs. 14.1 billion. Excluding the new addition of Sunshine Tea, revenue growth stood at 30.7%. Both tea and confectionary categories have seen a noteworthy increase in revenue during the period in review. The PAT of the sector amounted to Rs. 498 million (up 115.7% YoY) compared to the same period last year.
Agribusiness
The Group's agribusiness sector, represented by Watawala Plantations PLC (WATA) and Watawala Dairy Limited (WDL), saw a revenue increase of 32.1% YoY to Rs. 6.6 billion. EBIT margin for 9MFY23 stood at 41.5%, against 56.2%in the corresponding period last year, owing to increased cost of bought crop and reduction in crop volumes by 6.32% YoY. PAT of the Agri sector closed at Rs. 2.6 billion for 9MFY23, down 2.8% YoY compared to the same period last year.
About Sunshine Holdings
Sunshine Holdings PLC is a diversified conglomerate contributing to 'nation-building' by creating value in vital sectors of the Sri Lankan economy – healthcare, consumer goods and agribusiness. Established in 1967, the group is now home to leading Sri Lankan brands such as Zesta Tea, Watawala Tea, Ran Kahata, Daintee Confectionary and Healthguard Pharmacy, with over 2,300 employees and revenue of Rs. 39 billion YTD 2022/23. The business units comprise of Sunshine Healthcare Lanka, Sunshine Consumer Lanka and Watawala Plantations PLC, which are leaders in their respective sectors and many of them certified as a "Great Place to Work" in 2021.